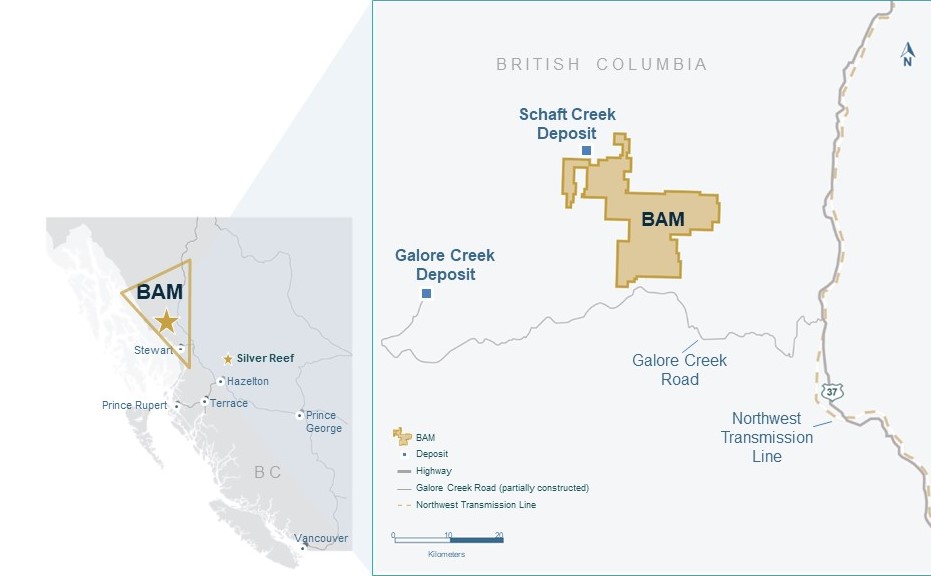 BAM is a grassroots gold-copper exploration opportunity within a well-known area of British Columbia's Golden Triangle. P2 is advancing exploration on two zones, a historical copper zone and the Monarch Gold Zone which was first discovered by P2 in 2020.
Location and access to infrastructure
The BAM Property consists of ten mineral tenures that cover an area of over 8,100 hectares, located approximately 150 kilometers northwest of Stewart, BC. BAM has good access to existing infrastructure, with Highway 37 and the Northwest Transmission Line approximately 35 kilometers to the east of the property, and the Galore Creek Project access road 1.7 kilometers to the southeast.
P2 Gold's opportunity – advance a gold discovery near good access to infrastructure
The BAM property was first discovered in the 1960's, but has not been systematically explored for large porphyry related copper-gold or a bulk tonnage gold-silver system using modern exploration techniques. The property's newly-discovered Monarch Gold Zone is open at depth and along strike.
2022 Exploration
A 12,000-meter to 14,000-meter drill program is currently underway at BAM. Drilling commenced in late June with one drill, with a second drill mobilizing to site in mid-July. A ZTEM™ (Z-Axis Tipper Electromagnetic) geophysical survey originally scheduled for early June is now underway.
2020/2021 Exploration – discovery of Monarch Gold Zone
P2 optioned BAM in July 2020 and in August 2020 completed a soil geochemical sampling program that defined the Monarch Gold Zone near the north end of the grid in an area that had never been drilled in the past. Based on the soil sampling, the Monarch Gold Zone measures 1,100 meters by 600 meters and covers a hornfelsed calcareous sediment in contact with a granitic batholith. The zone is defined by numerous samples with greater than 25 ppb (0.025 g/t) gold, of which 16 samples assay greater than 500 ppb (0.50 g/t) gold with the highest sample assaying 5,730 ppb (5.73 g/t gold). The zone also hosts highly anomalous values in arsenic, antimony, copper, mercury and tellurium that, in combination with the size and location of the anomaly, are indicative of a robust epithermal system.
The soil geochemical sampling program consisted of approximately 60-line kilometers of survey lines covering an area measuring 4.8 kilometers by 2.0 kilometers. The main survey lines were spaced at 200-meter centers running east-west, with shorter infill survey lines spaced at 100-meter centers locally covering areas with historical anomalies. Soil samples were collected every 50 meters along each of the survey lines. Approximately 1,100 samples were collected and assayed.
In 2021, P2 completed an 835.9 meter, six-hole drill program at BAM, drilling four holes at the Monarch Gold Zone and two holes at the historical Jan Copper Zone. All four holes drilled in the Monarch Gold Zone intersected gold, with both holes at the Jan Copper Zone intersecting copper.
Selected Drill Results, Monarch Gold Zone 2021 (BAM-001 to BAM-003 and BAM-005)(1, 2)
Hole
Collar Coords
Dip/
Azimuth
From
(m)
To
(m)
Interval
(m)
Gold
(g/t)
Silver
(g/t)
BAM-001
N6341778
E387114
-45/90
18.25
69.00
50.75
0.62
4.87
incl.
46.10
55.85
9.75
1.11
4.07
BAM-002
N6341711
E387332
-45/270
20.00
35.30
15.30
0.51
3.25
BAM-003
N6341996
E386870
-45/270
5.35
51.20
45.85
2.63
3.08
Incl.
34.70
51.20
16.50
5.29
4.27
Incl.
42.00
51.20
9.20
7.30
4.44
BAM-005
N6342305/
E387366
-45/270
47.40
109.70
62.30
0.65
-
Incl.
91.50
109.70
18.20
1.14
-
Selected Drill Results, Jan Copper Zone 2021 (BAM-004 and BAM-006)(1, 2)
Hole
Collar Coords
Dip/
Azimuth
From
(m)
To
(m)
Interval
(m)
Gold
(g/t)
Copper
(%)
BAM-004
N6340892/
E386295
-45/270
68.00
107.25
39.25
0.01
1.10
incl.
75.70
84.85
9.15
0.04
3.23
BAM-006
N6341173/
E386513
-45/270
7.20
14.00
6.80
0.04
0.33

True thickness to be determined.
All samples were submitted for preparation and analysis by ALS Global at its facilities in Terrace, BC. All samples were analyzed using multi-digestion with ICP finish and fire assay with AA finish for gold. Samples with over 10 ppm gold were fire assayed with a gravimetric finish. One in 20 samples was blank, one in 20 was a standard sample, and one in 20 samples had a sample cut from assay rejects assayed as a field duplicate at ALS Global in North Vancouver, BC.
Historical exploration
The BAM Property was discovered in the 1960s when regional exploration that was focused on copper mineralization resulted in the discovery of the Galore Creek deposit, approximately 35 kilometers to the west, and the Schaft Creek deposit, approximately 20 kilometers to the northwest; both deposits are large copper-gold porphyry mineralizing systems. On the BAM Property, drilling in 1967 outlined an area of copper mineralization with minor silver, identified as the Jan Copper Zone, in a replacement zone hosted by brecciated Lower Permian limestone and dolomite to the south of P2's newly discovered Monarch Gold Zone.
More recent exploration efforts on the BAM Property have focused on gold. This work started in the mid-1980s when Chevron Canada Resources Limited collected channel samples from trenches that returned up to 7.4 grams per tonne gold over 19.3 meters to the south of the Jan Copper Zone. Sporadic exploration work has been completed on the property since that time. P2 believes these historical results provide an indication of the potential of the BAM Property and are relevant to planned exploration.
Quality Assurance
Ken McNaughton, M.A.Sc., P.Eng., Chief Exploration Officer, P2 Gold, is the Qualified Person responsible for the BAM Property exploration programs and has reviewed, verified and approved the above scientific and technical information.
Option terms
The acquisition is structured as a two-phase option to acquire a 100% interest in the BAM Property. The initial option is for a 70% interest in the property. On exercise of the initial option, the Company will have the right to acquire the remaining 30% interest, for a 100% total interest, or remain at 70% and enter into a joint venture with the vendor.
The terms of the initial option, for a 70% interest in the property, are as follows:
| Year | Cash | Common Shares | Work Commitment |
| --- | --- | --- | --- |
| Signing | $60,000 | 200,000 | - |
| 1 | $150,000 | 200,000 | $150,000 |
| 2 | $200,000 | 200,000 | $250,000 |
| 3 | $550,000 | 800,000 | $350,000 |
| Total | $960,000 | 1,400,000 | $750,000 |
Following exercise of the option, the Company has the right for a period of 120 days to acquire the remaining 30% interest in the BAM Property, for a 100% total interest, on payment of $7.5 million of which up to $4 million may be paid in shares of the Company at its election. If the Company elects to not purchase the remaining 30% interest, the Company and the vendor shall form a joint venture, with the Company appointed the operator. During the first three years of the joint venture, the Company will fund the vendor's participating interest in the joint venture. If the vendor fails to sell its interest in the joint venture during such three-year period, the vendor's interest will convert to a 2% net smelter returns royalty (the "nsr"), provided that the Company will have the opportunity to purchase the vendor's interest prior to such conversion for $7.5 million. Following the conversion of the vendor's interest to a 2% nsr, the Company may purchase 1% of the nsr for $2,000,000 (inflation adjusted from 2020). The vendor has also agreed to assign to the Company two claims that form part of the BAM Property for $40,000 and a 2% nsr, 100% of which can be purchased by the Company for $1,125,000 prior to commercial production on such claims and 1% of which can be purchased for $300,000 (inflation adjusted from 2020) after commercial production is achieved on such claims.
BAM Project Investor Presentation
Project Gallery